Choose an area of interest

Think how it applies to your curriculum considering


student needs,

assessment needs,

language needs.

Play with the tool and strategy using your curriculum
Development of Language: Creating Wordsmiths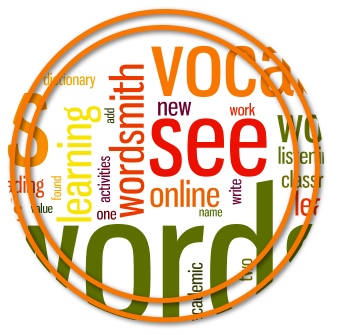 Vocabulary is required learning. While the teacher must direct the learning of specific vocabulary for their content area in each lesson, students should also consciously construct their own improved vocabulary. How students learn new vocabulary should not just be teacher directed, but also interest driven (new buzz word: passion). These activities provide opportunities to listen to our words in conversation and discussions and in written work for class or on blogs. Which brings us right back to listening: Wordsmiths listen to the way words work wonder in our minds. So if you find your classroom filled with wordsmiths, grab this badge to share with them; place it on your blog.  Write a comment on the Wordsmith Agora Blog about your wordsmithing:
Wordsmith Agora Welcome
Word Connections 1 – Understand the word using your own words.
In order to understand a word, the student needs to describe the word in his or her own words; making connections from the text and his/her own life deepens the understanding.
Students draw two- three triangles on their paper. In the center, students write one vocabulary word. On two of the lines, students write connections directly from the text, problem, or image. On one of the lines, students write a personal connection that relates to the concept. Think-Pair-Share.
Word Whirl
Once students begin to understand and use the words, use activities that support this use.
Students bring their best new vocabulary words, ready for Word Whirl. Students think about a poem or speech with their words for two minutes so that in one to two minutes they speak on a topic or recite their poem. They try their ideas out with a partner, seeking questions on content and format, and offering those to their partner. Students rethink their work for two minutes. Now the whirl: students pop up and share their work to the class. Listeners write down the in
teresting word(s) they hear, and one compliment. Next person pops. At the end all students either turn in their list/compliments or type them into a shared google doc. The document is discussed as a class as it is projected, or a leader shares the compliments and key words. What did you like? What did you notice? What was confusing? What word will you try? Students add their whirl to the Wordsmith Wonders, their own blog, or a common wiki or site.
Online Tools
Vocabulary Learning Cycle Online Tools
Word Concepts
http://wordsift.com
Students or teacher insert (copy/paste) text into site. All the main words of the text appear in a box. Choose the content area from the menu below the word list (science, math, academic) to highlight those words.. Analyze the word map which is created below the word list to choose vocabulary words. Create a visual word map for discussion by dragging the words from this list deemed most important to the lesson into the workspace (you may need to click the me
nu item "Create a Workspace." Add the images (click "make images draggable") and words. Discuss.
I took screenshots of these; students can too, or project all on board.
Here is a
tour
of how wordsift works:
http://wordsift.com/site/videotour/newFeat
Learner Dictionary
This dictionary offers word definitions in learner terms rather than dictionary terms:
http://www.learnersdictionary.com/practice/index.htm
You or the students can access these for better word understanding. It's free to use and students with email can create their own account.
Word Connections 2 – Understand the word in your own pictures and words.
Describe and sketch word meanings on paper or use online tools. Share and discuss; verify understandings.
The thinking behind these, either online or on paper, solidifies the learning.
Toondoo
: free -- just sign-up.
For fifty students for 12 month use in a private social space, the cost is $105.
http://www.toondoo.com/cartoon/3583142

MakeBeliefs -- no sign up required; can email to teacher; I took screenshot.

http://www.makebeliefscomix.com/Comix/
Study – Teacher or student created study cards.
Free Online (for a fee, more options):
Flashcard Exchange
http://www.flashcardexchange.com
http://www.flashcardexchange.com/user/view/760342
More options are available for only $19.95 a year!
Easily upload words via a spreadsheet or a Google Document with two columns labeled Question and Answer.
Examples:   
Central Tendency Google Spreadsheet
Central Tendancy Flashcards (Click Study)
Spelling City
http://spellingcity.com
Free for many items.  Thirty students for one year is $49.95.  With
premium membership
, the site tracks all activity for spelling, vocabulary, and writing. Students can be grouped for differentiation. Grades can be transferred to your gradebook.  Many more games available. Writing can be emailed to teacher; feedback from teacher added.
The following are free:
http://www.spellingcity.com/view-spelling-list.html?listId=5828249
http://www.spellingcity.com/word-match-vocabulary-game.html?listId=5828249
Wall Wisher
Create an online
word wall
for links, descriptions, images about your vocabulary. Make it public so anyone can post. You can still moderate each post.
Other Online Tools
Six Vocabulary Visits
Listening Vocabulary: In order to read well, then, a good oral listening vocabulary will improve the ability to understand written text. What if students co uld listen to stories and hear the words?

Did you know about these free audiobook sites for children?

Lit to Go by Florida's Educational Technology Clearinghouse

Storynory's Catch Phrase (explains common phrases in stories)

What about student research and reading online?

Try: Reading Words Online — turn text to speech
http://vozme.com/bookmarklet.php?lang=en (add to your browser)
http://www.ispeech.org/
http://www.readthewords.com/
http://www.odiogo.com/sign_up.php Turn your blog into a podcast

If you have access to a Mac OS X, check out these accessibility features, including text to speech, built in to the system:
(text to speech directions)
Literacy Learning

For Students with Disabilities:
Bookshare.org

High Frequency Words
To facilitate reading, students learn the high frequency words used in texts to develop automaticity in reading. What are these high frequency words?

Lists

can be found here (free)
Sight Words
Wordbank 1200 High Frequency Words

For Students and Teachers
Spelling City (freemium)
Prefixes/Suffixes

For Students
Fun with Learning
Say the words before they disappear.

Academic Vocabulary:12 words

Standardized tests drive instruction today, like it or not. I've been reading many blogs who have mentioned Larry Bell's  suggestion that students learn twelve important academic words frequently found on standardized tests. Here's one blog with these words:

12 Words (trace, analyze, formulate, explain, describe, summarize, infer, compare, contrast, predict, evaluate, support)

This would be a great start to helping students with school-based learning. Learn them. Use them in questions and tests. Students apply them in their work and self-created test questions.

One way to learn words is through flashcards and learner-friendly glossaries.

I found two sites that help students and teachers create and use flashcards or glossaries.

First, quizlet, a freemium online app allowed me to easily created a set of online flashcards of the twelve words. I also created a set to use to teach with which included examples.  Students can sign up to create their own in quizlet. Teachers can create private groups for students.

Second, in Wordsmyth, I quickly created a glossary of the words with audio, mostly kid-friendly definitions, part of speech, an example, and related words. I could choose a dictionary (beginner, childrens, advanced) which then suggests kid-friendly definitions accordingly. This is important in learning new words: the definitions need to be in kid-friendly terms and their own words.  In this set, I added the word, "evidence" to the list.

For the related words, a great strategy is to place those words on a continuum of least-strong to most-strong in its meaning. Reading Rockets provides a wonder lesson and resources about this: Semantic Gradiants

Other Flashcard Apps:

Google's Widget in Spreadsheet  How To
Studyblue — free
Studystack — Sample flashcards about Google Apps

Many of these apps are now available for the iOS platform (iPhones, iPads, iPods). gFlash is available on all devices.

Academic Vocabulary: Content Words

As students study in textbooks and online to become experts in their area of study, they encounter words particular to each discipline. We want students to recognize and take time to learn these words so they can speak and write as historians, geographers, biologists, authors, etc. We want our classrooms filled with literate conversations. What are these words?

Bringing Words to Life available on Kindle

I discovered a wonderful site from Tennessee filled with resources for helping teachers and students master academic vocabulary.
And one from New Zealand which also includes exercises for students who are English language learners.

By choosing the words, and helping students choose the words, that are content-specific, we ensure students have the opportunity to develop better understanding of the content. Using wordsmyth or quizlet or any other site that helps students generate and practice these vocabulary words will aid in their progress.

A strategy I use in my class is called word triangles. Here's the strategy sheet. Students choose a word and list it inside a triangle. On two legs of the triangle, students write two details from the text that relate to the word on the lines next to each triangle. On the third line, students write a connection to the word. This helps students focus on the word, the text, and their understanding through a connection. It's been a powerful addition to our learning.

Improving Vocabulary

Yes, automaticity and academic vocabulary is important, but what is more important is lifelong learning. Becoming a wordsmith is fun. In my classroom, my wall is adorned with Donald Murray's quote, "Writing is hard fun." Vocabulary is "hard fun" too. But key to learning new words is putting those words into one's own frame of reference with one's own images, words, and connections and using the words correctly in daily use.

Students need kid-friendly definitions:

The Oxford dictionary is for language learners, so the definitions are written in easily understood words and so is this learner dictionary, both specially designed for easy understandings of definitions.

And, suggestions for activities to practice, learn, and use words can be found at this Learning Tasks site.

Students can create their own learning center at Vocabulary.com

Using the strategies in our first four visits with learner-friendly dictionaries, and interactive activities, and maintaining an online vocabulary center will propel students to become wordsmiths.

Sharing Vocabulary

Choosing, learning, practicing words need social connections. Our Wordsmith Wonders will begin the interaction of sharing and applying our vocabulary. Working with partners and groups for learning on Vocabulary Wednesdays will offer more sharing time so we learn from each other.

A new book of strategies is Inside Words by Janet Allen (available on Kindle).

Merrium-Webster allows users to build an online dictionary; add to it.
From our TMTW Wiki
TMTW Wiki
  (resources listed below)  
TMTW ELL Page
(not listed here)
Wordle
Like wordsift, but web of text and prettier — most used are larger —
Idea: choose a word; enter synonyms or definition; create poster
Idea: Enter vocabulary words; Use for writing prompt for review

Vocabulary places
http://wordgeneration.org/highlights.html
http://wordgeneration.org/sitemap.html
An entire academic vocabulary program 15 min/day - once in each content area (twice in LA).
http://www.amathsdictionaryforkids.com/
http://diggsteacherresources.pbworks.com/Math
http://grantlab.pbworks.com/Math
http://www.harcourtschool.com/glossary/math2/index_temp.html
Glossary— interactive/visual
http://www.gotbrainy.com/words
List of SAT words; find student created videos of definitions
Enter the contest
Search for a student's reading book/magazine in google books
Search that text for school vocabulary words in that text
A list of text from that book with that word shown with page numbers will result.
Have you used Visual Thesaurus from Thinkmap? It creates webs of related synonyms and antonyms with definitions.

Visual Thesaurus: http://www.visualthesaurus.com

Lesson in Vocabulary for Word Problems: http://www.visualthesaurus.com/cm/lessons/2197/

It costs our district about $400 / year for all users.

You can try it online.
Other Resources
Lesson Plans -- Math Vocabulary
Vocabulary lesson plans here: http://ning.it/afD7GI Math-ese OPSU 
http://www.opsu.edu/www/education/Math-Ese%20Lesson%20Plans/Mastering%20Math%20Vocabulary.html
Teacher's Domain
Inspiring Middle School Literacy
Reading and Writing in Science and History
An entire site to find and create lessosn plans with video clips
http://www.teachersdomain.org/special/adlit/
Vocabulary ThinkSheets and Homework
Building Schema through re-reading, context attention, and connections.
More Online Tools
Google Reading Level Search